Yorkie Puppy and Things to Know About a Yorkie Puppy. The best post about yorkie puppies ever
Here are 14 Facts about Yorkie Puppy
1. Yorkies Are the "Tomboy Toy"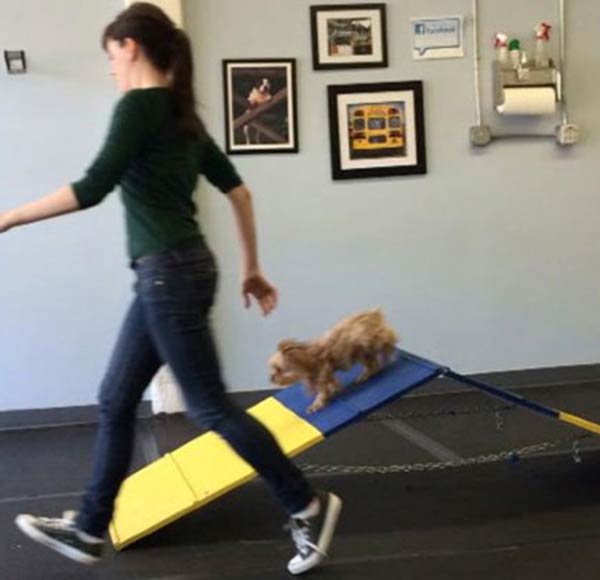 Don't be fooled by this toy breed's tiny stature—they are five to seven pounds of pure tomboy. This spunky personality has earned the Yorkie its nickname, "the tomboy toy." The breed standard references the breed's trademark confidence and courage, saying, "The dog's high head carriage and confident manner should give the appearance of vigor and self-importance." Because of these traits, Yorkshire Terriers do well at everything from dog sports, like agility, to therapy work and makes them great travel companions as well as family dogs.
2. The Yorkie's Coat Has a Similar Texture to Human Hair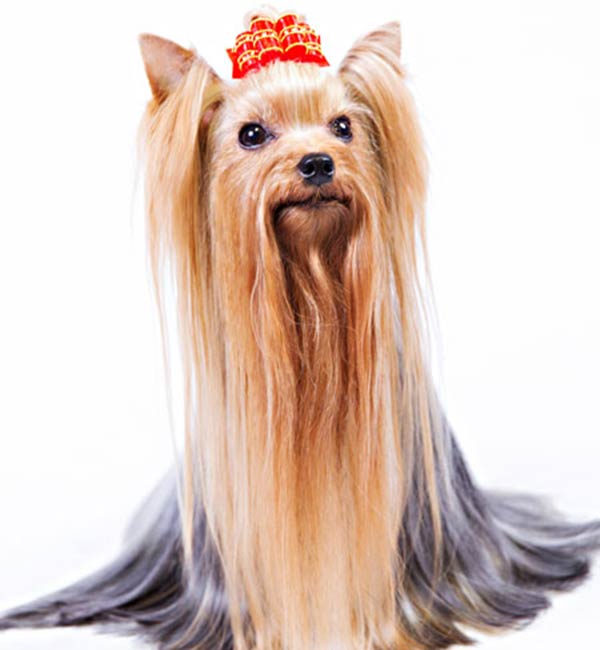 Yorkies are known for their long, flowing, silky coats, which swish around the show ring. But this beautiful feature is also incredibly time-consuming to care for. Because the coat is similar to human hair, it tangles into knots if the owner doesn't brush it every day (it can also break easily when brushing against carpets in the home). The bonus is that Yorkies don't have an undercoat so their coat doesn't shed anymore than your hair does. Many breeders recommend that owners keep their pet Yorkies in a "puppy cut," which is short and easily to maintain.
3. Yorkies Have a Blue Collar Background
Sure, today they may wear bows in their top knots and their self-important air may make them seem like they have royal roots, but Yorkies have a rather unglamorous background of catching rats and other vermin in underground tunnels. This instinct still comes out in their play (offer a Yorkie a stuffed mouse, and you'll see what we mean), and owners can put it to work in non-competitive AKC Earthdog tests. This sport allows dogs to test their ability to pursue caged rats underground.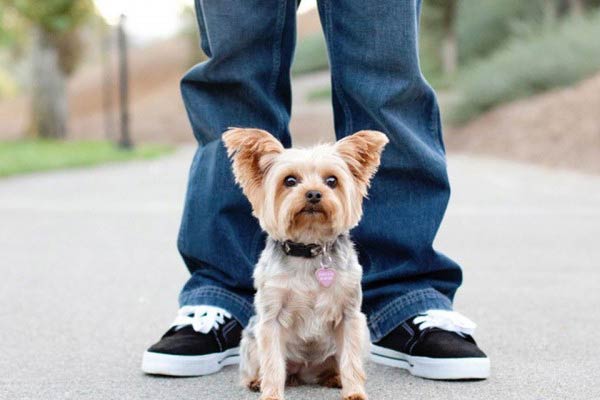 4. Yep, Yorkies Are a Man's Dog, Too
Really, Yorkies are great pets for both men and women. But the former Yorkshire Terrier Club of America President Cheryl Rangel has noticed a curious trend in her puppy buyers over three decades of breeding. She explained to AKC Family Dog that often the husband makes a point of telling her the dog will be his wife's pet because he would rather have a "real dog," like a German Shepherd. Months later when she checks in with the family, it turns out that the Yorkie has bonded better with the husband. "It's unbelievable. The men do a 180," Rangel told AKC Family Dog. Other "real men" who love Yorkies: Bruce Willis, football star Brett Favre, Justin Timberlake, Orlando Bloom, and most famously from the recent Australia dog-smuggling incident, Johnny Depp.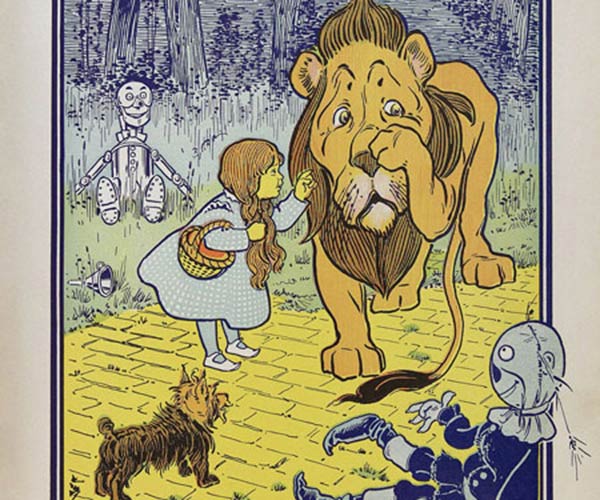 5. Yorkies May Have Been the Inspiration For Toto
This fact will remain a point of contention among Cairn Terrier and Yorkshire Terrier fans alike. The original drawings in the first edition of L. Frank Baum's book The Wonderful Wizard of Oz depict Toto as what some say seems to be a Yorkie. The assumption makes sense, considering the breed was popular at the time and that the illustrator W.W. Denslow owned one. We will never know for sure, but we are certain that in the movie, Toto is played by a Cairn Terrier.
6. One Yorkie is a War Hero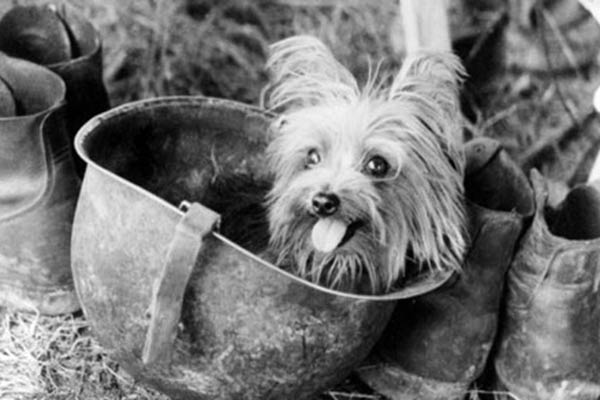 In World War II, a Yorkie named Smoky is credited with saving the lives of soldiers by dragging a communications cable through an 8-inch-wide, 60-foot-long drainage culvert. She is also thought to be the world's first therapy dog, visiting wounded soldiers in hospitals. Smoky was found by an American soldier in 1944 in a Papua New Guinea jungle, and when he brought the little dog back to the barracks, U.S. Army Corporal William Wynne took her under his wing. He later wrote a book about Smoky called Yorkie Doodle Dandy. There are six U.S.-based memorials honoring Smoky, including one in AKC's Museum of the Dog, and one international memorial in Australia.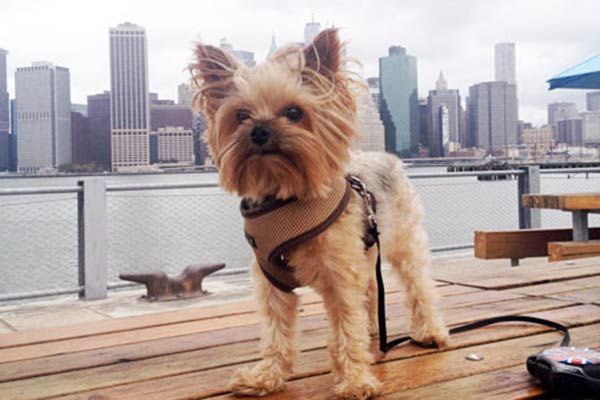 7. Yorkies Aren't Afraid of the Big City (When Trained Properly)
Even a dog as small as a Yorkie can succeed in the Big Apple and other large urban environments. In fact, Yorkies routinely make the top of the list of NYC's most popular breeds (although they've dropped in numbers over the past few years). That confident manner comes in handy when a truck backfires or a crowd scurries around him on the sidewalk. By providing proper socialization from a young age and leading them through the Canine Good Citizen test, you can help ensure that your pint-sized pup has a New York state of mind. Here, watch as AKC Dog on Staff Chowsie demonstrated his street smarts in a Pix11 feature on the AKC's new Urban Canine Good Citizen test.
If you think this breed is right for you, check out AKC Marketplace for Yorkshire Terrier puppies.
Don't underestimate the Yorkie's size by the pitter-patter of their tiny feet and their petite body capable of fitting inside a purse. This is a big dog trapped inside a small body. Buyers beware — Yorkie puppies can be irresistibly cute and may melt your heart into a million pieces.
8.Peeing Machines
Make sure you stock up with plenty of puppy pads and arm yourself with loads of patience, as this breed is not the easiest to house break. Equipped with tiny bladders and a reluctance to get wet or cold, Yorkies indeed make it to the top list of most difficult breeds to potty train. If you live in an area that is cold and rainy, an outdoor covered potty area may help convince your Yorkie that stepping outside to do business is not as bad as he thought. Don't forget always to praise lavishly and throw a party every time your Yorkie eliminates outside.
9.Playful Pooches
When your puppy peeing machine is not actively eliminating on your precious carpet, you may be entertained by this breed's endearing antics. Yorkies love to play and enjoy doing anything that grabs your attention. Because Yorkies were used extensively in textile mills and coal mines for the purpose of hunting vermin, they are drawn naturally to toys that squeak. If you invest in a squeaky toy, make sure you always keep an eye on your Yorkie, as some may chew it open, pull out the squeaker and even decide to swallow it whole.
10.Petite Puppies
When young, Yorkie puppies are fine-boned, and can be particularly fragile and prone to injury. Because of this, you will need to be extra careful how you handle them. As with other tiny toy breeds, always watch your step when walking and look behind you when you are sitting to avoid accidental squashing and suffocation. Because of this breed's fragility, it does not fare well with young, clumsy children who may injure a vulnerable puppy accidentally.
11.Party Poopers
Because Yorkies are prone to "Napoleon syndrome" as they grow and become bolder, they may attempt to take on a bigger dog they do not like, but the bigger dog may easily see a yappy Yorkie puppy as an irresistible delicacy. To safeguard your puppy from trouble, he always should be on leash and kept safely away from bigger dogs. Protecting your Yorkie puppy from bigger dogs will need to become second nature if you don't want him to become a tasty dessert.
12.Productive Yappers
When given the opportunity, the Yorkie breed will feel compelled to sound off the alarm for the slightest noise. If you want a keen watchdog, count your blessings; this yappy breed will make you happy. If you are not a fan of barking, you may be searching desperately for an "off" button. Don't let your Yorkie's sharp tongue get out of hand. The earlier you establish gentle rules and implement consistent training, the better.
13.Picky Eaters
This breed can be a bit finicky when it comes to eating. Some become this way after being spoiled with table scraps and then start refusing their regular kibble. If your Yorkie puppy is turning his nose to food, make sure you keep an eye on him and take some steps to prevent hypoglycemia, a potentially fatal condition toy and teacup breeds are prone to suffer.
14.People Pleasers
When socialized well, Yorkies are affectionate towards their people and look forward to getting all the attention they can get. However, fail to socialize this breed well, and you may end up with a yappy Yorkie that is suspicious of everyone and everything. Make sure you dedicate loads of time in socializing your puppy during the critical period for primary socialization. Well socialized Yorkies with sound temperaments thrive on human companionship and love being pampered.