This post include on query Dog Clicker Training Guide and how to charge the clicker.
Part 1: Charge the clicker
In this clicker training guide you will learn how to use a noise maker to teach your dog obedience while having fun at the same time. A clicker is a simple device that makes a "click" noise, a sound that we will teach your dog means "Good job!".

Be prepared to be amazed! Your dog will show you everything he's got and you didn't know! Clicker training is a very easy and fun technique, your dog will catch on it really quickly.
A clicker is a plastic box with a piece of metal inside, when you push the metal it "clicks!", that sound doesn't mean anything to your dog right now, so don't try it without teaching him first.
Some people may find that using a clicker is a little bit of a hassle because you have to remember to bring it with you every time you want to train your dog, and the truth is you could simply use a word or any sound with your mouth. But using the clicker has it's own advantages.

Let me tell you:
The sound of the clicker is so distinct that your canine friend will be able to pick it up anywhere and respond to it!
You will be able to accurately MARK the correct behavior the INSTANT it happens. Using words can get muddy and sloppy.
The clicker will take you deep into dog training.

When you see it in action…you will get it too!
Dog Clicker Training Guide: Charging the clicker
To start you will need two basic items:

Trainers use the term "charge the clicker" to mean they need to teach the dog the meaning of it.
What is that meaning?… Great question!

Click means: Yes! That is exactly what I want you to do! you will get a treat for it. And if you do it again, you will get another treat! So, keep doing it!
Clicker training guide to "charging the clicker":
Click
Immediately give your furry friend a treat.
This is referred to as "Click and Treat". The treat always comes AFTER the click!

Repeat when your pet is laying down.
Repeat when your pooch is sitting.
Repeat when your dog is looking the other way.
Repeat when he least expects it.
Repeat….repeat….repeat…

Do it 10-15 times per training session for a few days.
Use some of the kibble from his dinner and breakfast to do a few rounds without over feeding him!

You are done when you can tell your pet gets excited as soon as he hears the sound and before you hand him a treat!
The animal must learn that the sound "click" predicts that a treat is coming.

…Does it sound familiar?
Yes! It's Classical Conditioning! (Read the article if you haven't yet).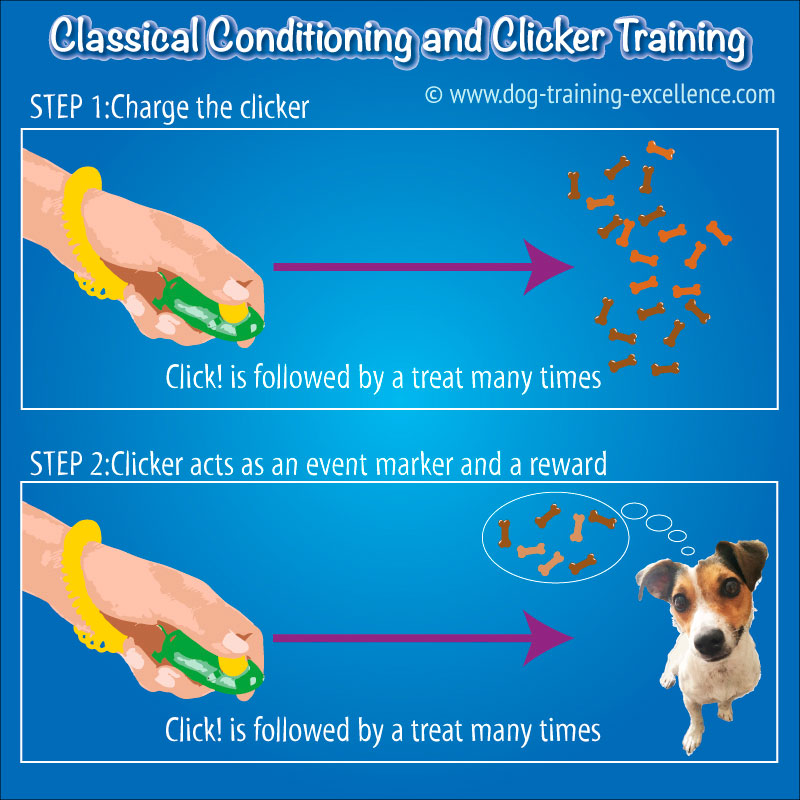 It does not matter (yet) if your dog is doing something good or not. At this point you only want him to learn that "click" means "treat".

If you do this often enough, the sound itself will become a reward too!
Unfortunately, this does not mean that you can eventually stop giving treats altogether. If you stop giving treats after the click, your dog will learn through Extinction that the click does not predict a treat is coming anymore.
This doesn't matter though! Here is why:
You will only use the clicker to get the behavior going. Once the behavior is happening often you can add a command to it and you will stop using the noise maker.
The sound will act as a temporal bridge between the perfect time in which your dog did the correct behavior and the time in which he will be getting the treat. This is extremely useful! You wouldn't want your pet breaking that perfect behavior just to eat the treat!
When the behavior is "on command" you will use a Marker Word and treats for reinforcement, but you can cut the treats down to half!
Dog Clicker training guide troubleshooting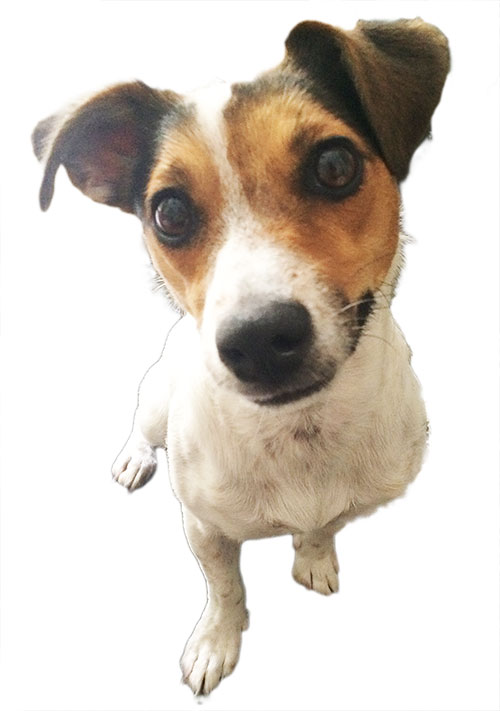 My dog is afraid of the sound of the clicker!
Sometimes dogs will react poorly to a loud clicker. This is easy to solve though. Wrap it with layers of tape or cloth. This will dampen the sound a little bit and your pooch will not be afraid. Click and treat! click and treat! As your pet gets eager and happier, start removing layers, this will gradually increase the sound level but your dog should be staying happy if the treats keep coming!
Do I have to give a treat after every click?
Yes! You do. You want your canine friend to think that the click sound is the best thing in the world! You want him to do anything possible in order to make that sound happen! Don't worry though, you will cut down treats in half after the behavior is put on cue.
Continue Dog clicker training to PART 2 : Clicker Training Free Shaping